If You're A Biker Babe, wondering what to wear to the Sturgis bike rally? You've come to the right place! In this blog post, we'll be sharing some of our top tips on what to wear to the rally if you want to look and feel like a true biker babe.
The Sturgis Motorcycle Rally is held every August in the town of Sturgis, South Dakota. It is the largest motorcycle rally in the world, with an estimated attendance of over 500,000 people. The rally features a variety of events and attractions, including bike shows, live concerts, and a wide variety of vendors selling everything from motorcycle parts to clothing. There is also a wide range of food and drink available, making it the perfect place to enjoy a weekend with friends. Whether you're a long-time biker fan or just curious about the lifestyle, the Sturgis Motorcycle Rally is sure to provide you with wild fun.
Getting creative with outfits that exude trendy biker vibes is a big part of the fun at this rally, and it's one of the ways that you can help make it an extra-special event.
The possible styling combinations are virtually limitless, ranging from a rowdy-howdy get-up to a smoking-hot bodycon look.
Need more inspo? I've put together 10 outfit body sturgis rally for guys and girls of all styles.
Enjoy!
1. What to wear to Sturgis Bike Rally
If you're planning on attending the Sturgis bike rally, you'll want to make sure you're dressed for the occasion. While the weather in South Dakota in August can be hot, you'll find that the crowds are even hotter. You'll see a lot of women wearing sexy tube tops and shorts, but bear in mind that this kind of clothing isn't particularly protective if you're planning on actually riding a motorcycle. However, if you're just there for the Instagram-worthy pictures, this look is definitely a 10/10.
2. What to wear to a motorcycle rally
While there is no one correct answer to the question of what to wear to a motorcycle rally, many people choose to show their support for the event by wearing tight-fitting leggings. This fashion choice allows attendees to show their asset in a way that is both comfortable and stylish. Additionally, pairing the leggings with a "GIRL WHO RIDE" tee and converse shoes creates a look that is both fun and attitude-filled. Ultimately, what someone chooses to wear to a motorcycle rally is up to them. However, those who want to show their support for the event while also looking stylish and comfortable may want to consider wearing tight-fitting leggings.
3. Biker chick outfit ideas
The world's largest bike bar is the perfect place to show off your Biker Chick style. Whether you're looking for a hot bartender look or a bossy denim vest, these Biker Chick outfit ideas will have you looking your best. The black striped top is a classic piece that can be teamed with a mini skirt for a hot look or with a distressed denim vest for a more bossy look. Either way, you'll be sure to turn heads when you show off your Biker Chick style at the world's largest bike bar.
4. Bandana for a classic biker chic look
As any fashion-savvy biker knows, the right accessories can make all the difference. And when it comes to Bandanas, there are endless possibilities. Whether you're looking to add a pop of color or just keep your hair out of your face, Bandanas are the perfect way to show off your style. Not to mention, they're also great for protecting your skin from the sun and wind. So whether you're hitting the open road or heading to the Sturgis Bike Rally, be sure to rock a Bandana with style.
5. Hot ladies in US flag
Hot ladies in US flag are always a popular look, and you will be seeing the US flag literally everywhere this Fourth of July. Whether you are rockin' a bodysuit or a maxi dress, feel free to embrace these vibrant hues and feel extra patriotic. As always, be sure to accessorize with some American-themed jewelry to complete the look. Red, white, and blue has never looked so good!
6. High-waisted faux leather shorts
Leather shorts are a great way to add some edge to your look. They can be paired with a variety of tops, from crop tops to button-downs, and they look great with both sneakers and heels. Leather shorts are also a great way to fake a nice body. The high waist design and structured fabric help to camouflage your belly and give you the appearance of a slimmer figure. Whether you're wearing them out on the town or just running errands, leather shorts are a versatile piece that will help you look your best.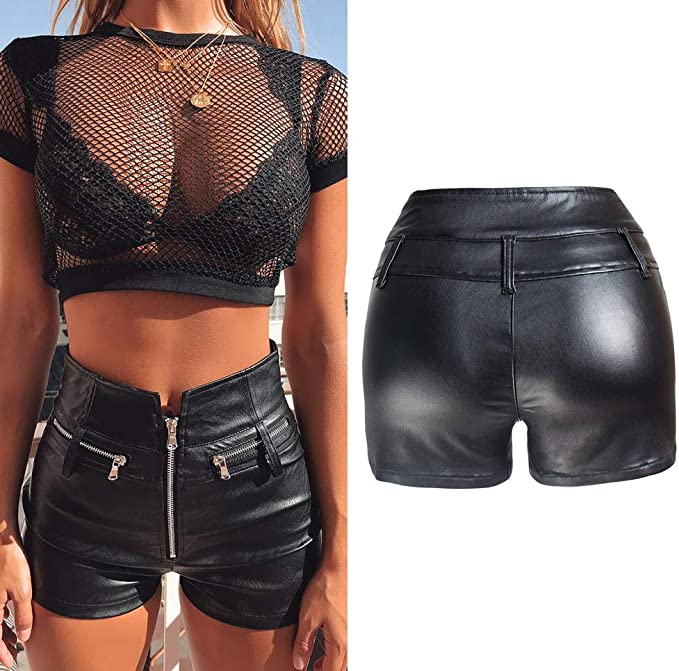 7. Sturgis Tee that screams the vibes
Sturgis Teewix is the place to go for Sturgis T-shirts and memorabilia. Of course, many biker fans will buy the Sturgis T-shirt when they walk through the vendor booth – I suggest you get one too!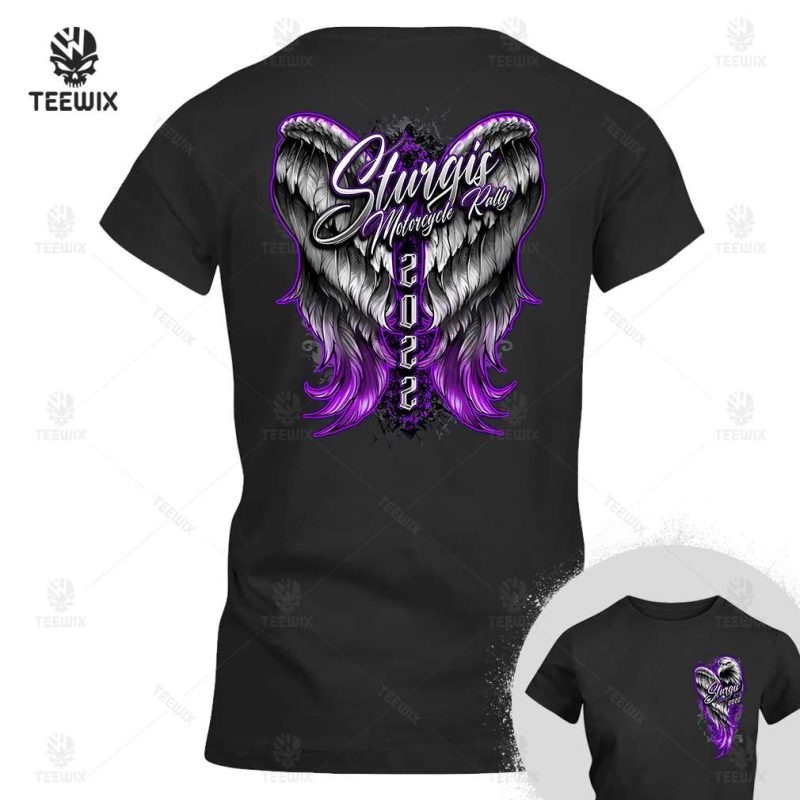 PRO TIPS:
According to Sturgis Teewix, the longer you wait to buy, the cheaper the shirt and memorabilia will be! So if you want to dig out some gems, wait for the last two days! Sturgis Teewix has a great selection of Sturgis T-shirts, and their prices are unbeatable.
8. Cool biker outfit ideas
I found this tank with criss-cross in the front that looks great on everyone. Look at what's below!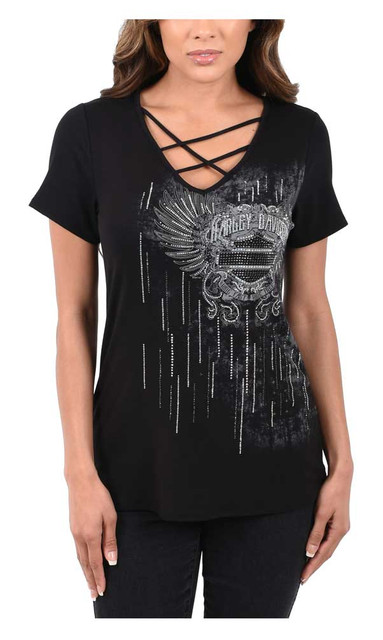 This design just draws people's attention to your chest area without trying too hard.
9. Sturgis bike rally motorcyclist outfits
If you're a real rider, make sure you wear enough protection before you go for a ride.
A helmet, eye protection, long pants, and gloves with all of your fingers must be worn.
10. What shoes to wear to Sturgis Bike Rally
Bike Rally in Sturgis is one of the biggest events of the year for motorcycle enthusiasts. Whether you're just passing through or staying for the week, there's plenty to see and do. One thing to keep in mind, though, is that comfortable shoes are a must. With all the walking you'll be doing, from checking out the many vendors to exploring downtown and beyond, you'll want to make sure your feet are happy. So ditch the high heels and opt for a pair of flats or sneakers instead. Your feet will thank you later.
FINAL THOUGHTS
So, there you have it: 10 outfit ideas if you are wondering what to wear to the Sturgis bike rally.
Of course, these outfits are also great for any other bike rally or party with a motorcycle theme. Now it's time to finish getting ready and have fun at the party.
Want more ideas for what to wear as a motorcyclist? Check out my most purchased shirt collection below.