If you're a motorcycle enthusiast, then you're probably already aware that the Sturgis Motorcycle Rally is one of the biggest and best events of the year. Taking place in South Dakota every August, this rally attracts bikers from all over the world. And if you're planning on attending the 2022 Sturgis Rally, then you'll definitely want to check out this essential tour guide.
In this guide, we'll cover everything you need to know about the rally, from where to stay and what to do, to the best routes to take and the must-see sights. So whether you're a first-timer or a seasoned veteran, you're sure to find all the information you need right here. So let's get started!
What is the History of the Sturgis Motorcycle Rally?
The Sturgis Motorcycle Rally began back in 1938, when a group of about 20 riders decided to take a trip from Bear Butte, South Dakota to the town of Sturgis. This was originally just meant to be a one-time event, but it proved to be so popular that it became an annual tradition.
In 1941, the rally was officially named the "Black Hills Classic" and it continued to grow in popularity in the years that followed. By the 1960s, there were an estimated 10,000 attendees and by the 1980s, that number had grown to over 100,000. Today, the rally is still going strong and attracts over 500,000 people every year.
When is the 2022 Sturgis Rally?
The 2022 Sturgis Rally will take place from August 5-14. However, many people arrive a few days early to get settled in and enjoy some of the pre-rally events.
The Sturgis Motorcycle Rally is an annual event that takes place in the town of Sturgis, South Dakota. The rally typically runs for 10 days, from the first Friday in August to the second Sunday. During this time, motorcycle enthusiasts from all over the world descend on Sturgis to enjoy the rodeo, live music, and general camaraderie. The rally began in 1938 as a small gathering of motorcyclists, and has since grown into one of the largest motorcycle events in the world. If you're thinking of attending the Sturgis Motorcycle Rally, be sure to mark your calendar for early August.
Where is the Sturgis Rally?
The city of Sturgis announced in 2015 that the date on which the Rally would begin will be the Friday immediately before the first full week of August, and it will continue until the second Sunday.
In 2016, the municipal council went so far as to enact a resolution that said the Rally will begin on the first Friday of the month of August!
Now that the dates have been fixed in stone, the city and all of the participants can begin preparing for an event that typically draws in 500,000 people annually while also producing income in the amount of $800 million.
Where is the Sturgis Motorcycle Rally?
Sturgis is a small town located in Meade County, South Dakota. With a population of just over 6,000 people, it is the 16th largest city in the state. The town is most commonly known for hosting the Sturgis Motorcycle Rally, which is one of the largest motorcycle rallies in the world. It is held annually and typically attracts over 500,000 attendees from all over the globe. In addition to being a boon for the local economy, the Rally also brings in a considerable amount of revenue for the state of South Dakota as a whole. Thanks to the influx of visitors, businesses across the state experience an uptick in sales and many hotels and restaurants are completely booked during the week-long event. All in all, the Sturgis Motorcycle Rally is a significant source of income for both the town of Sturgis and the state of South Dakota.
What to Expect at the Sturgis Motorcycle Rally?
It is the largest motorcycle rally in the United States, and riders from all over the world come to attend. The rally usually lasts for about a week, and there are a variety of activities to enjoy. One of the most popular activities is riding through the scenic Black Hills. This area is home to some of the most beautiful scenery in the country, and it is a great place to go for a leisurely ride. There are also plenty of opportunities to see live music, as many famous musicians come to perform at the rally. If you are interested in purchasing a new motorcycle, there are also plenty of dealerships that set up shop during the rally. Whether you are a seasoned rider or a first-timer, the Sturgis Motorcycle Rally is an event that you will not want to miss.
When Should I Come, and How Long Should I Stay?
The subject of how long to remain at the Sturgis Motorcycle Rally has no definitive solution. It depends on a variety of circumstances, such as how long you can put your life on wait to go, how long you can afford to attend, and what you want to gain from the trip. If you can only take one week off from work, then you can only afford to attend the demonstration for one week. If you are retired or self-employed, though, you may be permitted to remain for the whole two-week event. And if you are just searching for a party, a week may be plenty. But if you want to enjoy all the rally has to offer, you should consider staying for the whole two weeks. There are many attractions and activities, and you may feel compelled to stay the whole time because you don't want to miss out on anything, but make sure you save some time to go on some of the rides that go far beyond Sturgis. Whether you spend a week or two, enjoy all Sturgis Motorcycle Rally has to offer.
How Much Does Sturgis Motorcycle Rally Cost?
Although the protest is free to attend, certain expenses must be planned for in the budget. Food, beverages, and lodging will all need payment, and although camping is an option, it may not be acceptable for everyone. During the rally, there are also a handful of major concerts that may demand an admission price. Despite these fees, the rally offers exceptional value for money, with a vast array of activities and events available. With daily parking prices as low as $5, it is easy to understand why the rally is so popular.
Buffalo Chip Pass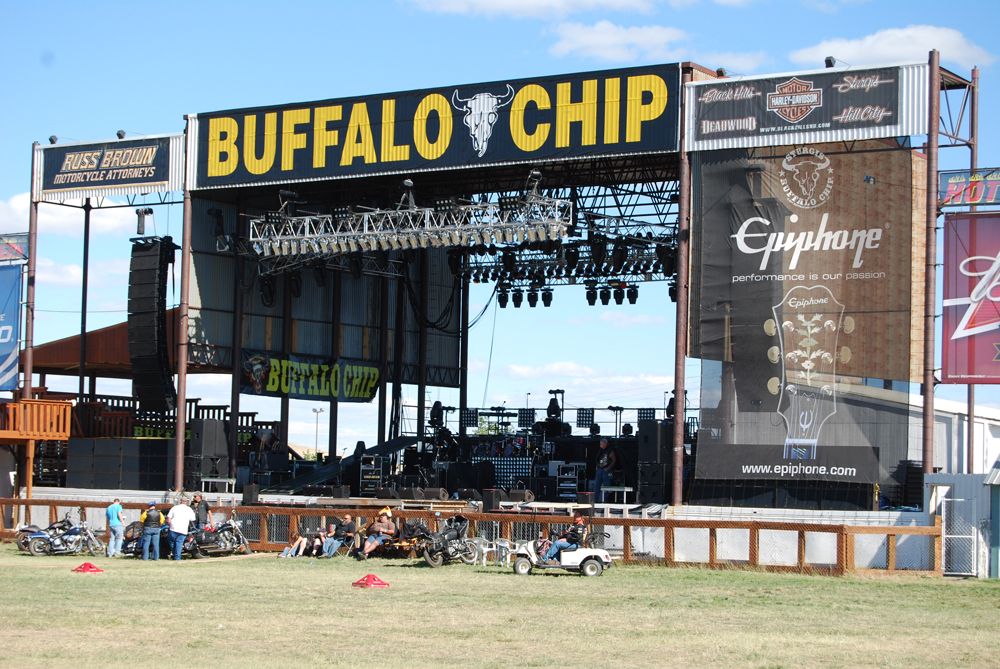 The Buffalo Chip is a full festival pass that allows you to attend the rally for the entire duration. The price of the pass is dependent on when it is purchased and how much of the rally you want to attend. If you buy your pass in advance, you will pay less. If you want to attend the full rally, you will be required to pay a higher fee. Also available for purchase are day passes and weekend passes. The day ticket is $80.00, while the weekend pass is $365.00.
Accommodations
During the motorcycle rally, Sturgis hotels charge twice or treble what they normally do. At the height of the rally, hotel rooms in the region may go as high as $400 per night, so it's wise to research alternative possibilities if you want to save money. Campsites may fill up rapidly and can cost between $100 and $175 per night, making them a popular choice for rally attendees. However, it's vital to secure your space well in advance since these sites tend to become busy quickly. Another option is to hire an RV, however the cost of 50 Amp service might reach $650, depending on the size of your RV. In the end, renting a home for your group may be the best choice; although it may cost more up front, it may end up saving you money.
Gas
Gas prices should be taken into account while planning a ride to Sturgis Motorcycle Rally. The average bike gets 45 miles per gallon, so riders may anticipate spending $7 for every 100 miles they cycle. For instance, it will cost around $147 in petrol to go from Sturgis to Chicago and back ([2,100 miles 100 miles] x $7 = $147). Additionally, motorcyclists should budget extra cash for petrol while at the rally since exploring the local region may easily add up to 300 miles each day. For a round-trip to Sturgis, riders should budget at least $244 in petrol ([2,100 miles x 100 miles] x $7 = $147 Plus [900 miles x 100 miles] x $7 = $63).
Food and Dining
When travelling, one of the biggest expenses is often food. If you're not careful, it's easy to spend a fortune on meals out. However, there are some simple ways to keep your food costs down. First, try to eat breakfast and lunch at your hotel or hostel. Many places offer a continental breakfast which can be a great way to start your day. For lunch, look for inexpensive sandwich shops or markets where you can buy some basic provisions. Then, for dinner, splurge on one nice meal but look for discounts like early bird specials. By following these tips, you can enjoy some delicious meals without breaking the bank.
What Should I Wear at Sturgis?
You might be wondering what to wear. The answer, of course, depends on your personal style and preferences. However, there are a few general guidelines that can help you make sure you're prepared for the event. First, remember that the weather in South Dakota can be quite hot during the summer, so it's important to dress in light, air-y clothing. Secondly, because the rally is such a large and festive event, it's often best to err on the side of dressing up rather than down. Of course, there's no need to go overboard – a simple pair of jeans and a shirt will do just fine. Finally, don't forget to pack your sunscreen! Whether you're riding a motorcycle or simply enjoying the concerts and vendors, you'll want to make sure you're protected from the sun. With these guidelines in mind, you're sure to have a great time at the Sturgis Motorcycle Rally.
You can refer to some commemorative shirt samples at Teewix Store. We provide you with extremely unique shirt designs and cannot be found anywhere else.
>>> Find the best ideas about:
What Should I Pack?
When packing for a motorcycle rally, it is important to be minimalist in your approach. That way, you will have more room in your saddlebags for souvenirs! You can even buy items of clothing at the rally that you can wear during the rally, saving even more space. When deciding what to bring, be sure to prioritize rain gear and shower supplies. And don't forget your motorcycle insurance information! By following these simple tips, you can make the most of your packing and have a great time at the rally.
What is the Weather During the Sturgis Motorcycle Rally?
As your trip date approaches, be sure to check the weather regularly. The rally can be hot or cold, depending on the year, and it's important to be prepared for both extremes. If you're traveling in hot weather, pack light, loose-fitting clothing and plenty of sunscreen. Drink lots of fluids, even if you don't feel thirsty, and take breaks frequently to stay cool. If you're traveling in cold weather, dress in layers and pack warm clothes, boots, and gloves. Be sure to keep an eye on the forecast and road conditions, as they can change quickly in colder climates. By being prepared for any kind of weather, you can make the most of your rally experience.
What are the Best Rides During Sturgis?
Sturgis is world-famous for its motorcycle rally, but it's also a great place to enjoy some of the best riding in the country. The area is home to numerous scenic highways and byways, including the iconic Route 66. Whether you're looking for a leisurely ride through the countryside or a challenging journey through the mountains, you'll find plenty of options to explore around Sturgis. And with so many great places to eat, drink, and explore, you'll never be bored when you take a break from the saddle. So whether you're coming for the rally or just looking for a great place to ride, be sure to add Sturgis Motorcycle Rally to your list. You won't be disappointed.
Mt. Rushmore

Sturgis is a mecca for motorcycle enthusiasts from all over the world, and it's only an hour away from one of the most iconic monuments in the United States: Mount Rushmore. If you're attending the Sturgis rally this year, make the time to visit Mount Rushmore. Seeing it in person is an experience that will stay with you for a lifetime.
While Mount Rushmore may be familiar to you from films and photos, nothing can prepare you for the magnitude of the monument. As you approach it, you'll start to see bits and pieces of it peeking through the trees. The closer you get, the more excitement will build until you finally catch your first glimpse of the massive mountain carving. It truly is awe inspiring!
So if you're attending the Sturgis Motorcycle Rally this year, make sure to add Mount Rushmore to your list of places to visit. You won't regret it!
Iron Mountain Road
Threading its way through the heart of the Black Hills, Iron Mountain Road is one of America's most scenic highways. The Peter Norbeck National Scenic Byway (US 16A) starts between Keystone and Mount Rushmore National Monument and ends just east of Custer State Park Wildlife Loop. The route includes some of the most breathtaking scenery in the country, with towering mountain peaks, cascading waterfalls, and deep canyons. Along the way, visitors can enjoy plenty of opportunities for hiking, biking, and wildlife watching. Whether you're a local looking for a new place to explore or a visitor seeking an unforgettable experience, Iron Mountain Road is definitely worth the ride.
Spearfish Canyon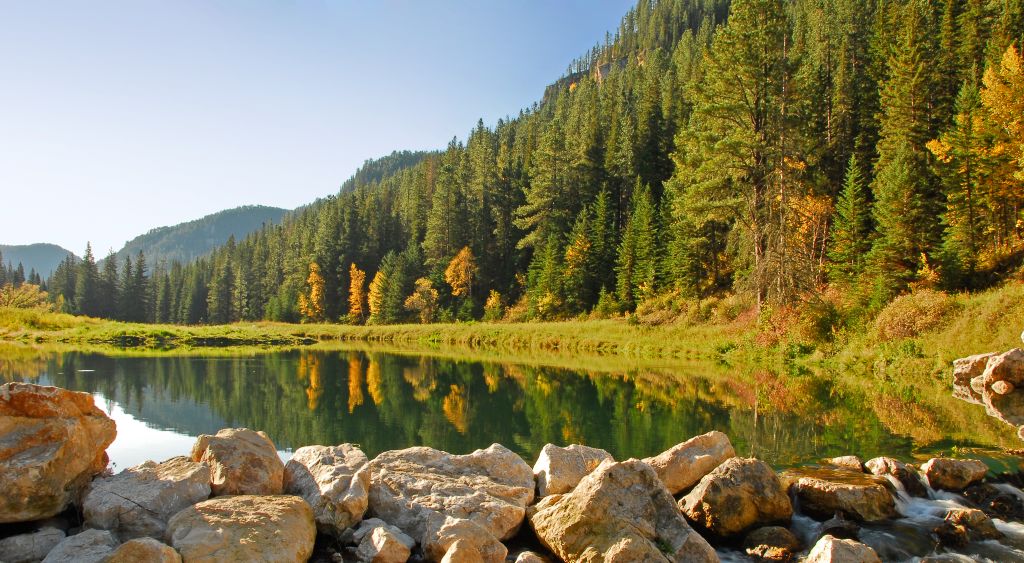 Spearfish Canyon is located in the Black Hills of South Dakota, just north of the city of Spearfish. The canyon is 22 miles long and features a variety of scenic attractions, including limestone cliffs, waterfalls, and forests. Visitors can access the canyon via I-90 exits 12 or 14. Once inside the canyon, visitors can choose to hike, bike, or drive along the winding roads. No matter how you choose to explore Spearfish Canyon, you are sure to be impressed by its natural beauty.
Vanocker Canyon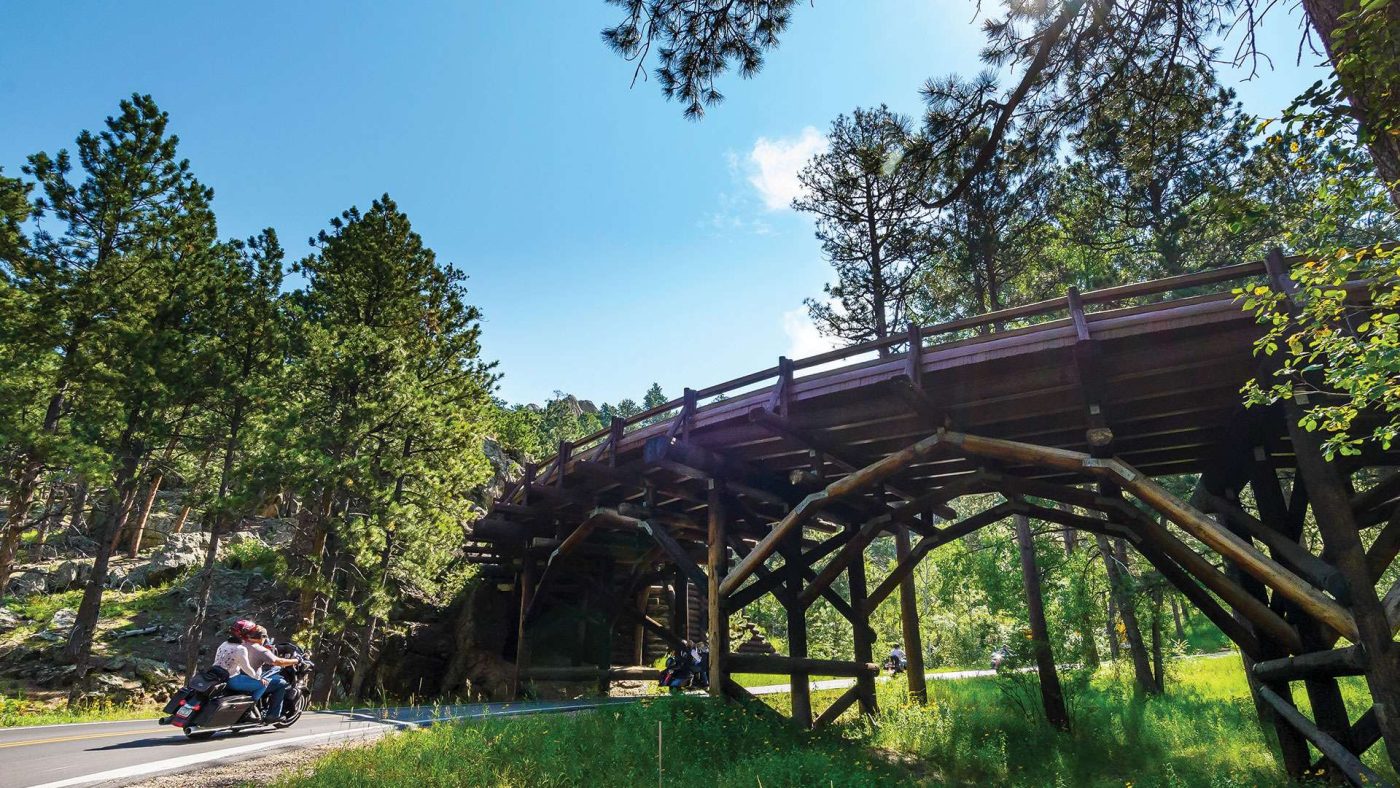 The 17- mile long Vanocker Canyon has the reputation as one of the most exciting rides to take in the Black Hills. As you wind your way through the twists and turns, you'll eventually come to a five-mile downhill plunge that is sure to get your heart racing. With its spectacular views and thrilling ride, it's no wonder this canyon is one of the most popular attractions in the area. Whether you're a seasoned rider or just getting started, you're sure to find this trip an enjoyable and memorable experience.
What Are Some Other Things to Do at Sturgis?
In addition to the main event – the Sturgis Motorcycle Rally – there are plenty of other great things to do during the rally. From live music and entertainment to outdoor activities, there's something for everyone at the rally. Here are just a few of the highlights:
Live music
The Rally features live musical performances throughout each day of the event, and these performances may be heard all throughout the Black Hills region. Concerts are also planned for most evenings and are held in conjunction with gatherings and promotions held by vendors. Throughout the week, there are also a number of charity fundraisers that are organized in order to collect money for a variety of local non-profit organizations.
Some of this year's highlights include:
Snoop Dog – Saturday, August 6, 2022
Bush – Sunday, August 7, 2022
Rob Zombie – Monday, August 8, 2022
Travis Tritt – Wednesday, August 10, 2022
Puddle of Mudd – Friday, August 12, 2022
Past artists have included Willie Nelson & Family, REO Speedwagon, Shinedown, and many more.
Outdoor activities
From hiking and biking to kayaking and fishing, there are plenty of ways to enjoy the great outdoors during the rally. And with the Black Hills National Forest right in your backyard, you'll never run out of things to do.
Pappy Hoel Campground
Nestled in the heart of the Black Hills, Pappy Hoel campground is the perfect place to get away from it all. With its beautiful views and ample amenities, the campground offers something for everyone. Whether you're looking to relax by the fire or explore the nearby hiking trails, Pappy Hoel has something to offer. The campground is open daily from 9am to 7pm, and Pappy Hoel will also be offering pinstriping, tattoos, and selling commemorative merch. So come on down and enjoy all that Pappy Hoel has to offer!
Mayor's Ride
The Jack Daniel's Annual Sturgis Mayor's Ride is an event you won't want to miss. You'll have the opportunity to ride through the beautiful Black Hills led by Sturgis Mayor Carstensen, and swing by Mount Rushmore. You'll also receive a special souvenir pack that includes a limited-edition decanter signed by the Mayor, a Challenge Coin, and other goodies provided by the Rally's Sponsors. All proceeds from the event will go towards benefiting local emergency services. So don't hesitate – sign up today for a good time that benefits a great cause!
Shopping
Whether you're looking for souvenirs or motorcycle gear, you'll find it all at the rally. There are dozens of vendors selling everything from clothes to jewelry to bikes.
So whether you're a seasoned veteran or a first-time visitor, make sure to take advantage of all that the Sturgis Motorcycle Rally has to offer!
Where Should I Stay During the Sturgis Bike Rally?
There are plenty of places to stay in Sturgis Motorcycle Rally, The Legendary Sturgis Buffalo Chip® arguably offers the most authentic experience. The venue held its first party back in 1982 and has been a popular destination for riders ever since. In addition to 5 performance stages and free pancake breakfasts, the Buffalo Chip also offers a 24/7 gas station and an actual zipline over the amphitheater. In other words, it's like someone decided to go all out…twice! Whether you're a seasoned veteran of the Sturgis rally or a first-time visitor, the Buffalo Chip is sure to offer an unforgettable experience.
Staying at a Campground?
Buffalo Chip offers a variety of camping options to suit your needs. If you're looking for a fully-equipped campsite, you can reserve an EZ Camp Package (with or without electricity). That way, your campsite will be ready to go as soon as you arrive! Or, if you prefer a more rustic camping experience, there are plenty of campgrounds in the area that offer private bus services to and from the festival. You can even buy discounted wristbands or pay in person as needed. So whether you're looking for a luxurious glamping experience or a more rugged camping adventure, Buffalo Chip has you covered!
How Can I Get My Gear to Sturgis?
Don't want to ride with all your gear? Don't!
Send it using UPS, and for a $15 fee the Spearfish UPS Store will bring your gear to Sturgis Buffalo Chip! Just make sure to call the UPS store in advance. Call (605) 717-8771 or email [email protected] to make arrangements.
Pro Tip: Make sure to time things out right so that you get to the Rally just as your gear does.
It's recommended that your packages get there by July 31st at the latest. You'll be able to collect your gear between 8AM and 5PM. MAXIMIZE RALLY FUN: Arrive at Sturgis Buffalo Chip relaxed and ready to party by having us transport your gear for you! Learn more about what makes The Best Party Anywhere® even better here.
How Can I Get My Bike to Sturgis?
If you're planning to attend the Sturgis Motorcycle Rally but don't want to ride your bike there, ship your bike and gear via enclosed transport is a great option. However, it's important to do your research in advance to make sure you choose a reputable shipping company. Some companies only ship from certain regions, so you'll need to find one that services your area. Once you've found a few potential companies, compare their rates and services to find the one that best meets your needs. Then, simply schedule a pick-up date and time and wait for your bike to arrive at the rally. With a little planning, shipping your bike to Sturgis can be a hassle-free experience.
Where Should I Park During Sturgis?
Needless to say, during the rally, parking will be limited. As a result, parking violations will be strictly enforced. Not only that, but there's no parking on Main Street or its side streets between 2AM and 6AM due to street cleaning.
The East end of the Buffalo Chip is a great place to park for free. However, you'll need to walk a bit to get to the main event. There is also free parking at the Visitor Center with a complimentary shuttle running every 30 minutes.
Make sure to take proper precautions to ensure that your bike isn't stolen. Yet another reason to bring your motorcycle insurance information since a failed attempt at theft can damage your bike.
Where are the Best Biker Bars and Food?
When it comes to biker-friendly bars and restaurants in Sturgis, there is no shortage of options. However, some establishments stand out from the rest. The Full Throttle Saloon, for example, is a popular destination for rally attendees, thanks to its unique atmosphere and extensive list of menu items. The Dungeon Bar and Loud American Roadhouse are also frequented by bikers, who enjoy the laid-back vibe and delicious food. Meanwhile, The Knuckle Saloon, Jambonz Grill & Pub, and One-Eyed Jack's Saloon have all earned high marks from top review sites like Yelp and TripAdvisor. No matter what your taste buds are craving, you're sure to find a biker-friendly bar or restaurant in Sturgis that will suit your needs.
What are Additional Helpful Resources?
The official Sturgis Motorcycle Rally website is the best source for up-to-date information on the event, including road conditions, weather updates, and construction projects.
Motorists can also dial "511" toll-free or visit Safe Travel USA for mile-by-mile construction updates and images. South Dakota's motorcycle driving laws are some of the most lenient in the country, but it is still important for riders to be familiar with them before embarking on a trip.
The next three Sturgis Rallies are scheduled:

August 4-13, 2023 (83rd Anniversary)

August 2-11, 2024 (84th Anniversary)
August 1-10, 2025 (85th Anniversary)

Riders should make sure they have adequate motorcycle insurance coverage before hitting the road.
Conclusion
The Sturgis Motorcycle Rally is an event that will continue to be talked about for years to come. With so many incredible things to see and do around the area, there's not even a close second. If you're a fan of the open road and motorcycles, then this rally is a must-do. Make sure to book your trip soon – it's only a matter of time before the rally sells out!